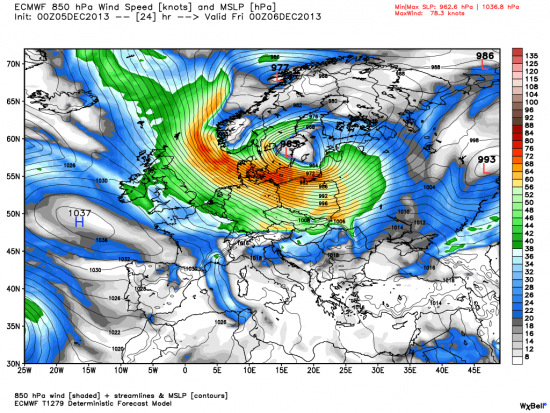 Windstorm Xaver: Model shows a large area of high winds in the lower atmosphere pushing waters of the North Sea into the coasts around western Europe. Courtesy WeatherBELL Analytics.
Natural catastrophes and man-made disasters worldwide reached $44 billion in insured losses in 2013—down from $81 billion in 2012, according to a Sigma preliminary report by Swiss Re.
The study found that total economic losses from disasters in 2013 totaled $130 billion and 25,000 lives were lost. Hurricane Haiyan alone, which hit the Philippines in November with record-breaking winds, claimed more than 7,000 lives. In 2012 total economic losses were $196 billion and 14,000 lives were lost.
...
http://www.riskmanagementmonitor.com/2013-disaster-losses-down-from-2012/