Weather damage never goes out of season. According to a new report from the Insurance Information Institute (I.I.I.), winter storms are historically the third-largest cause of catastrophe losses, behind only hurricanes and tornadoes.
"Winter storms accounted for 7.1 percent of all insured catastrophe losses between 1993 and 2012, placing it third behind hurricanes and tropical storms (40 percent) and tornadoes (36 percent) as the costliest natural disasters," said I.I.I. President Robert Hartwig.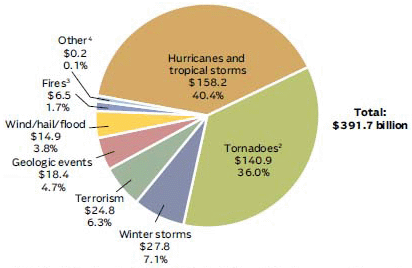 Between 1993 and 2012, winter storms resulted in about $27.8 billion in insured losses—or $1.4 billion per year, on average, according to Property Claims Service for Verisk Insurance Solutions.
...
http://www.riskmanagementmonitor.com/winter-weather-third-largest-cause-of-cat-losses